Workshops + Events
JANUARY 2015

January 31st, 7-10pm in LOS ANGELES: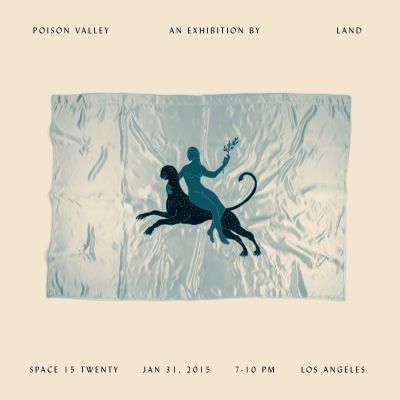 Join us for the opening reception of a new solo show by Austin's beloved artist duo, the LAND BOYS! Running with the show will be a TEXAS MAKERS POP-UP SHOP featuring goods by:
Cobra Rock Boot Co. / Ft. Lonesome / Botanicals Folklorica / Ana Klausmann / Traveller Denim Co. / Mason McFee / Fortuna Monsoon / Marfa Brands / Miranda Bennett / Folk Fibers / Pfau Shop

Show runs January 31st to February 21, 2015 at Space 15 Twenty
1520 N. Cahuenga Blvd
Los Angeles, CA 90028

_________________________________
SEPTEMBER 2014

September 13-14
A 27-HOUR POP-UP WITH PFAU!
Sale goes live on Busy-Being.com Saturday, September 13 at 1pm until Sunday, September 14 at 4pm!

Shop in person at Busy-Being during store hours beginning Saturday at 1pm.


Come shop this incredible assortment of authentic traditional textiles from Africa and Japan that is the culmination of decades of serious collecting by Pfau shop owner, Carola Pfau.
_________________________________
JULY 2014

July 12
3pm - 6pm
GET COSMIC
An Astrology Salon with Siri Deva Singh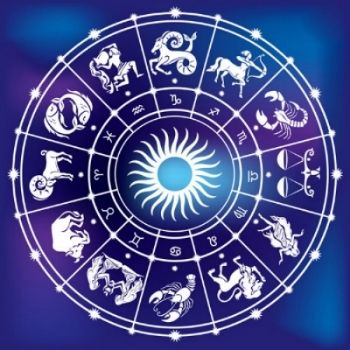 Come with questions to this fun, interactive astrology event. After a brief talk on evolutionary astrology, you'll have the opportunity to ask questions about your birth chart and astrology in general. We'll let the stars shed some light on your relationships, your past lives or anything else that's going on. Come on out and find out how you fit into the cosmic plan!

Find out more about Siri Deva Singh HERE
$25 in advance / $30 at door
IMPORTANT: Download a free copy of your birth chart HERE to bring to the event!
Reserve your space HERE


____________________________________
JUNE 2014

June 14
2pm - 6pm
Spend the afternoon with Ana Klausmann and Ben Nuhn learning the basic principles of natural and fiber reactive dyes.
We'll discuss how to prepare fabric for dying, dye vat preparation, and various shibori techniques. Indigo, turmeric and several fiber reactive dyes will be provided. This is an introduction to the vast and colorful world of hand dye methods, so no experience necessary. We will provide fabric for dying but feel free to bring your own items as long as they are no larger than a t-shirt and made of all natural material (cotton, wool, silk).


$45 / person (space is limited to 20 participants)
Reserve your space HERE


____________________________________
MAY 2014

KRAUT MAKING WORKSHOP
Saturday May 10, 2014
5:00pm - 7:00pm
$25 / person
Reserve your space HERE


Besides being immune boosting, probiotic, and chock full of nutrients, sauerkraut is just plain delicious. If you've ever wondered how to make it join Julia Vieau and Busy-Being for a hands-on lesson. In the workshop you'll learn how to make it, how to eat it, and why kraut makes such a superb addition to a balanced diet. We'll taste a variety of delicious ferments and make a batch together. Leave with recipes, resources, and your very own jar of kraut to ferment at home. Whether you're a kraut lover or a wary wonderer you'll love the class!


____________________________________


FEBRUARY 2014




____________________________________


JANUARY 2014

January 19, 2014 @ 4:30pm
REIKI LEVEL 1 CERTIFICATION WORKSHOP


Cost $200
Duration: 4-5 hours
Space is limited. Register at http://www.busy-being.com/product/reiki-level-1-certification-workshop
Want to learn to heal yourself and others? Reiki level one gives you your first attunement which will allow you to begin channeling reiki energy and heal yourself and others on a physical level. This one day course will teach you the basics of reiki healing.

Reiki Level 1 training includes:
-reiki 1 attunement that enables you to start channeling reiki energy
-teachings on the history and benefits of reiki
-guidance on healing techniques
-hands on practice
-general teachings on the chakras
-series of practical exercises designed to help you develop your confidence and intuitive awareness

You will receive a certificate of completion at the end of the workshop.

About Meredith Sloane:
A practicing reiki master for the past 8 years, my love is to introduce people to the magic of reiki and alternative healing. My speciality is helping people to release old patterns that are holding them back from experiencing amazing love, joy and happiness in their lives. Although I am based in Los Angeles, I spend my time traveling all over the world working on clients and teaching reiki. Recent travels have included London, Peru, Brazil, Japan, Boston, New York, and several other locations. In the Spring, I will be leading a 10 day transformational retreat in Peru which includes yoga, energy work, and plant medicines to help transform self of the levels of mind, body and spirit.

For more info on Meredith and reiki
www.healingmakesmehappy.com


____________________________________


DECEMBER 2013

Sunday December 8, 2013
2:30pm - 4:30pm
$20 / person
Reserve your space here:
http://www.busy-being.com/product/raw-holiday-desserts-workshop


This afternoon workshop on raw, vegan holiday goodies led by Julia Vieau will be sure to wow your friends and loved ones. We'll be making (and eating!) raw chocolate brownies studded with nuts and fruits, as well as luscious raw tartlets; perfect for holiday parties. Leave with recipes and inspiration on how to make some gorgeous, healthy treats.
A yogi, dancer, and artist; Julia Vieau enjoys making food that is both healthy and beautiful. She started in the kitchen as a child with her grandmother making comfort food favorites and has now been cooking avidly for more than 10 years with a focus on vegan and raw foods. Julia studied food systems and the chemistry of cooking at Evergreen State College and has lived / worked on several farms in Olympia, Washington. She has worked as in-home chef, created unique raw chocolates for events, and currently makes raw desserts and waits tables at a raw food cafe in Austin, TX. See what she's up to in the kitchen at www.jewelhousekitchen.blogspot.com and on Instagram @jeweliiaa
____________________________________
NOVEMBER 2013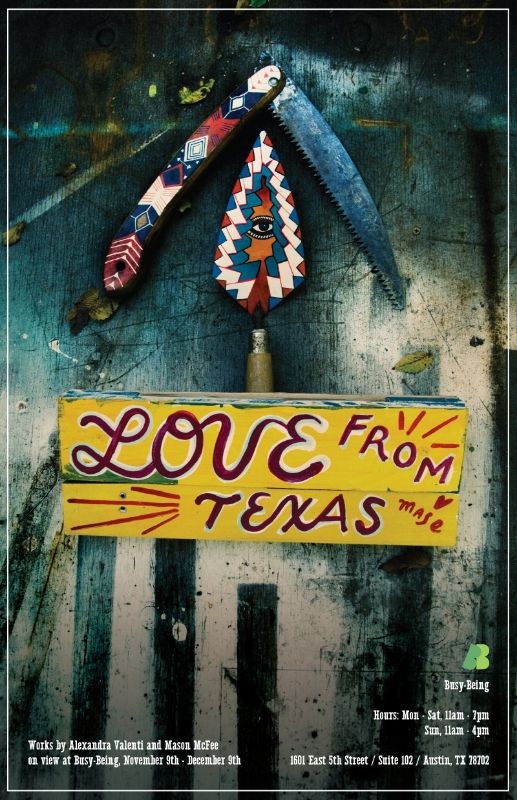 Opening reception Saturday November 9, 6-9pm.
Alexandra Valenti is a American Photographer & artist living in Austin, Texas.
Originally from Washington DC, she has lived in New York, Los Angeles, Berkeley and Melbourne, Australia. When not shooting commercially for such companies as Free People, Chaser, Silver Jeans, or Wasteland, Alexandra spends her time making art in Austin's eastside of town on a compound shared by 9 other artists. She paints on photographs, collages on wood, flags, and recently she has been painting on woodworking tools. "Love from Texas" will showcase a selection of her handpainted tools and painted horse prints. To see more of her photography, head to AlexandraValenti.com
Mason McFee is an artist and designer living in Austin, Texas. He works on drawings, prints, sculptures and paintings from the house he shares with partner, Jessica Rose Clark. Working together, the two also publish collaborative art books under the name Crummy House. hellomaseman.com
____________________________________
OCTOBER 2013
Lori Damiano lives and works in Portland, OR as an independent animator, illustrator, and teacher. She received a B.A. in Film/Video from UCSD and an MFA in Experimental Animation from CalArts. She currently works as the Animation Dept. Chair for the California State Summer School for the Arts and teaches in the Animated Arts program at the Pacific Northwest College of Art. She is also a member of the Resource Council at Portland's Independent Publishing Resource Center. Lori D. loves all things handmade. Some of the things she makes with her hands are paintings, animations, zines, films, quilts, gardens, miniature sweaters, and pies. Her films, artwork, and zines have been exhibited and published internationally.
____________________________________
____________________________________
SUNDAY OCTOBER 6, 11AM-5PM: Welcoming Winter with Wool : Tribal Weavings, Kilims and Carpets
********** Special Location: 1511 Old Ranch Road 12, San Marcos TX 78666

Whether you are a collector or just an appreciator you will not want to miss this.
Come enjoy a beautiful fall day in San Marcos, and see a unique selection of tribal weavings with the lovely family behind the famed Tribal Oriental Textiles (sometimes known as Texas Arabian Horses) and Busy-Being. Enjoy a picnic on the lawn; light fare will be served and you are welcome to bring something to share as well.
Specializing in all-wool, nomadic textiles from Turkey, Persia, and Afghanistan: Baluchi prayer rugs, Qashgai saddle, salt, and camel bags; Senna kilims as well as Uzbek soumaks, Kurdish gallery runners and weavings by other tribes from different areas. The emphasis is on handspun wool yarn that is naturally dyed by roots, minerals, and plants.
Please RSVP to hello@busy-being.com
____________________________________

WEDNESDAY OCTOBER 2, 7-9PM: PAST LIFE HEALING WORKSHOP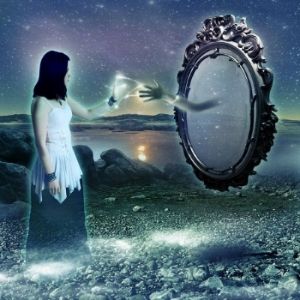 Please join us for a guided meditation to explore one of your many past lives. Through this journey you can find answers or perhaps healing, clarity, & solutions to phobias, fears, or strong unexplainable attachments & connections to things, people, & places in your present life that may be affecting you today. It is through this exploration we find healing in the knowing.
(please arrive on time, circle begins at 7:30pm)
$10 suggested donation
Please bring a pen, journal, and pillow to sit on.
Professional Artist, Medium, & Mystic Marcella Kroll will be traveling all the way from Los Angeles to lead this special workshop. Please see Marcella's website for her bio & testimonials.
www.marcellakroll.com
www.facebook.com/marcellakroll
IG/Twitter: @marcellakroll

____________________________________


AUGUST 2013


August 17th and 18th: A 2-day workshop led by visiting artist, Ashley Thayer of Maricolous Textiles (register on the www.busy-being.com main / product page)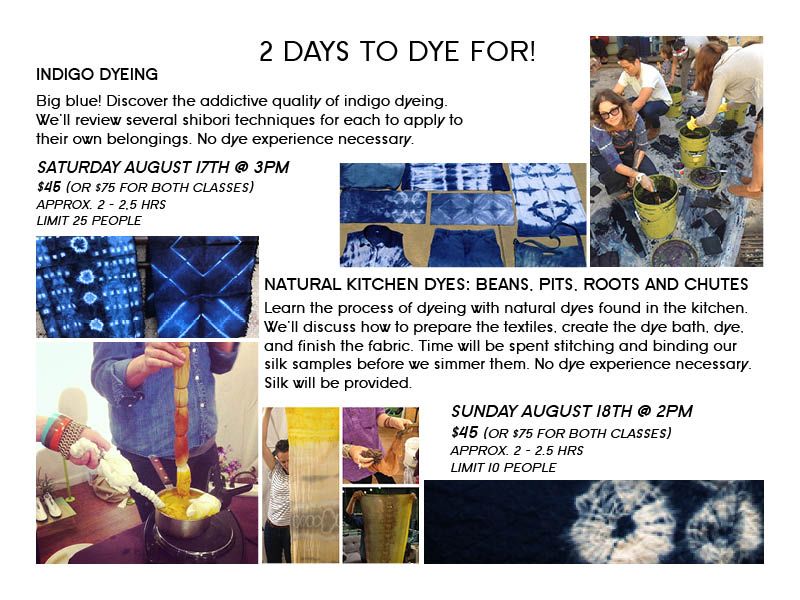 JUNE 2013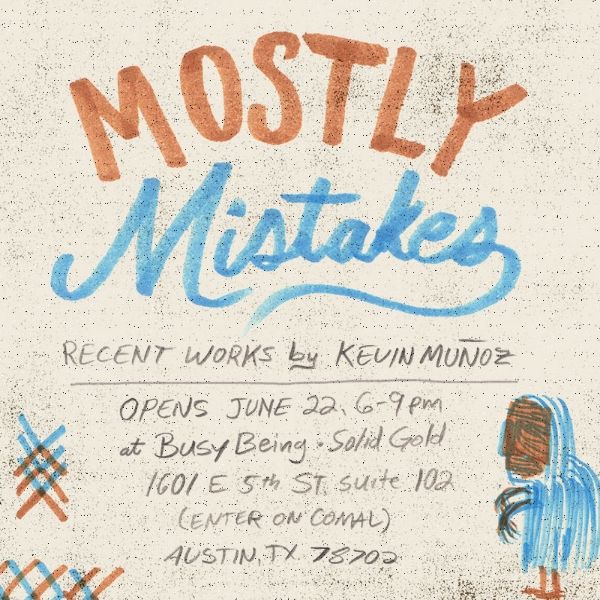 With music hosted by Lee Brooks! Bring your tapes and records!


MAY 2013

"

____________________________________

APRIL 2013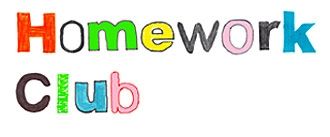 Sunday, April 14th: Homework Club (or "Finishing School" if you prefer) is back!! Bring your unfinished projects down from 11am-4pm for an old fashioned and informal group study hall / stitch n' bitch / get it done and socialize session with free lemonade and good conversation. (Free wi-fi)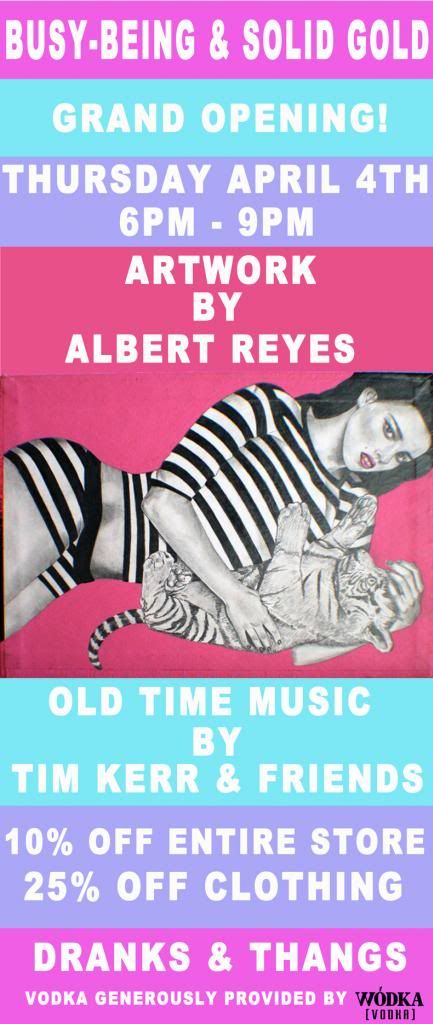 ____________________________________

MARCH 2013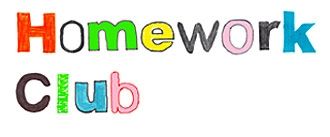 Saturday, March 23rd: Bring your unfinished projects down from 11am-7pm for an old fashioned and informal group study hall / stitch n' bitch / get it done and socialize session with free lemonade and good conversation. Free wifi for your non-crafting project is available.

Sunday March 3rd, 12:30pm - 3:30pm:
Begining Weaving: Build Your Own Frame Loom!


$15 Pre-registration
$20 Day of
This workshop will focus on the basic element of tapestry weaving. We will begin by discussing color fundamentals, materials, terminology, parts of the loom, and view samples / inspiration from working weavers. Then, we will begin building our own looms and learn to weave!

BIO:
Kate de Para is an educator and material enthusiast working in weaving, papermaking, and textile design. She owns and operates her clothing line, Evens, out of Houston, TX, where she also works as a professor of Textile Science and Textile Design. She recently earned her MFA in Fibers from the Savannah College of Art and Design.